REVIEWS
FANFARE MAGAZINE – REVIEW CD ABRAZANDO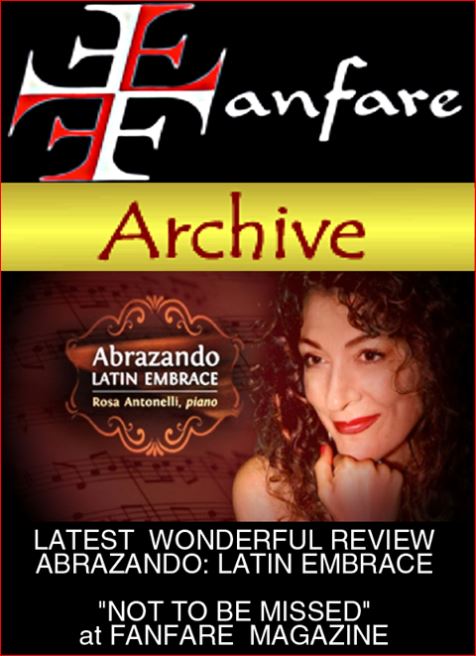 Excerpts from the review by Colin Clarke at FANFARE MAGAZINE "Not to be missed".
"Antonelli is clearly preternaturally attuned to the music of these territories, finding the smoldering heart ."
" ...music to altogether different pastures, more stern, more rarified. Here, Antonelli is superb, finding an organ-like sonority from her piano."
" The famous Libertango is notable for its heady, swirling turbulence. Antonelli plays it beautifully—almost intoxicatingly, in fact."
"... thanks to Antonelli's ability to caress a phrase and to utilize just the right amount of rubato."
" Antonelli plays them as if raising an eyebrow at the same time."
" The concluding movement is based upon a folk dance, the "Chacarera." Antonelli plays with great flair (she clearly knows the music well, as she gave the New York premiere of this piece in Carnegie Hall in October 2014). It is the perfect way to end a most rewarding recital."
Colin Clarke
BROOKLYN DAILY EAGLE – REVIEW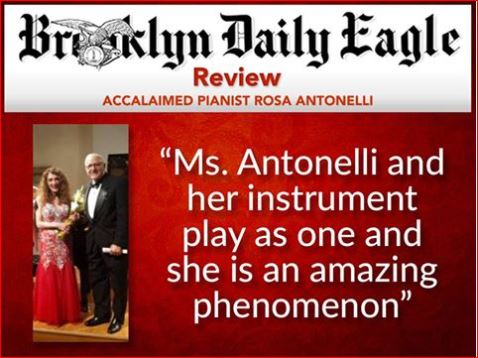 AMERICAN RECORD GUIDE – REVIEW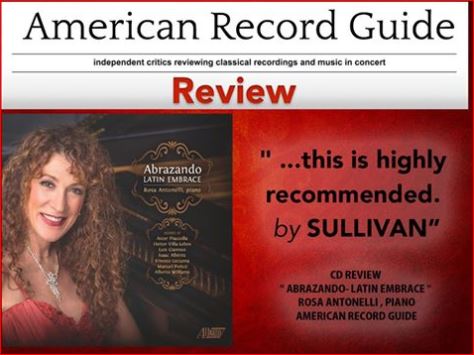 ART BODEGA Magazine Interview with Rosa Antonelli
ART BODEGA Magazine Interview with Rosa Antonelli
Rosa Antonelli, the renowned pianist from Argentina
By Rebeca Herrero
She has an innocent smile, and delicate yet powerful hands which have created some of the most poetic and inspiring classical music at Carnegie Hall.  Rosa Antonelli, a descendant of Italian nobility, whose family moved at a young age to Argentina, reminisced about her youth.  "Since I was four years old I was fascinated with the piano.  My mother was an opera singer and actress, so she recognized my ability and early passion for the piano," explains Antonelli from her Manhattan flat.  This is where she teaches piano to international students, as well as to talented children and adults from the New York area.   Her love of teaching dates back to both Buenos Aires and New York where she was a University piano professor.
Traveling constantly all over the world, Antonelli makes sure she stays at her best by practicing several hours each day.  "It can be a very strenuous routine if you do not know how to take care of your body.  The pianist must have intense awareness and control of the technique in order to stay in mastery of the instrument.  It is a very hard thing to do, especially preparing for Carnegie Hall."  It is there that she has delighted many top music critics and fans of Astor Piazzolla, Heitor Villa-Lobos, Ernesto Nazareth, Enrique Granados and Isaac Albeniz amongst others.
"I want to let the world know that Latin music is not only salsa, bachata,  mambo ,merengue etc. Even though I personally love to dance these rhythms, my mission has been for the past seven years to  promote and expose music lovers everywhere to the incredible classical composers from Latin America through my performances and recordings.  I was the first pianist to perform a program consisting  exclusively and only  of   Latin  masterpieces in the United States.  It was such an honor for me, but having that feeling and responsibility can also be nerve wracking," explains the iconic figure who is also one of the top artists at Steinway & Sons in Manhattan.
As we did our photo shoot with Rosa, wearing jewelry from Tiffany & Co., you get an idea of the great cultural contributions she has given us.  As she visits Steinway & Sons headquarters in Manhattan, she explains the attributes of being part of this illustrious brand.

"The new hall is a perfect realization of what cultural contribution these pianos provide to the world.   Steinway has been synonymous with the pinnacle of artistry.   Since I feel that the best classical music is  played in New York City, even after being a world renowned pianist that traveled to many continents it was still daring for me to come here.  Leaving everything behind, family, friends and home to come here in 1998 was risky, but it was my dream and it is now a reality," said Antonelli.
Rosa Antonelli is revered by the Administration and staff at Steinway& Sons. It is like a family for her  "They come to all of my concerts in New York and encourage and support me. They expressed how much  they like the way I play, they think it is unforced and spontaneous, but perhaps, more like a technique that comes naturally and that is played with so much sensibility and heartfelt feelings  . That's what they've told me, after my performance s and always meant so much to me " admits Antonelli.  At Steinway & Sons she spends hours admiring the instrument that gives tremendous joy and meaning to her life.
The wood reflects the brilliance of what this magical instrument represents. " Even at Carnegie Hall concerts, when you play a Steinway & Sons piano, either the one from USA or  from Germany, audiences are listening to the best since they allowed me to connect my heart to the soul of the piano  and giving to the audience" she effused  emotionally.
Rosa has a style that is unique; her contagious enthusiasm is a reflection of her artistic capabilities.  Knowing that she has to prepare to the annual concerts when she performs at the Carnegie Hall, the pianist explains, it can be very stressful.  "I got very nervous before my first big concert there; I couldn't believe it was sold out.  But I have this remarkable gift that when I walk onto the stage and especially when I start playing, I feel a strong spirit is protecting me and guiding me.   I feel only calm and beauty.   I performed two solo piano recitals at the Stern Auditorium at Carnegie Hal  .  Now  I feel that I  have given the public a unique taste of what Latin America is about.  Doing a solo performance, can be very intimidating.  I remember my first concert at Carnegie in 2011, because of New York traffic and street closures; I did not arrive until a few minutes before the show.  The staff at Carnegie Hall very nicely  was calling me, and asking" are you coming Rosa"? She said:  " oh sure, I just have to walk to blocks from my house to get there.  When I finally arrived, I was praying to God to do a beautiful and heartfelt performance  of the Latin American classical composers .  I was nervous thinking that not too many people would come to listen to this particular Repertoire and also because even though I had performed in the best halls all over the World, Carnegie Hall is Carnegie Hall! And marks your final  reputation  in the United States .  I did not ask how many seats we have sold.  When I finally entered the stage, the venue was packed, each of the 2,800 seats and as a  surprise for me they received me with a very warm applause and saying my name in loud voice!.  I was not nervous then, I was so  proud, and so happy,  and I felt at that moment that my heart was reaching out to the audience , and my mission and dream , a reality" admits the lovely Rosa.
At her home, a luxury apartment she shares with her husband Dr. Robert Veligdan, Antonelli has posters of some of her best performances from around the world.  She has performed  and toured extensively with more than 1000 concerts all over the globe in Europe, Asia, Africa  Latin America and North America and has introduced to them to many World Premiere pieces by Classical Latin  American composers .  Invited by many governments and cultural ministries, she has delighted audiences from these  dozens of countries offering her unique playing style and introducing this marvelous music.   In addition she has donated  her time and talents to  many worthy causes in the United States and abroad.
An Argentinian musical prodigy , Antonelli received American Citizenship from the government of the United States as an "Artist of Extraordinary Ability".  "It was not easy; I had a lot of setbacks in life and lost many of my relatives in Argentina.
" I was presenting lectures and seminars on piano technique and interpretation in various European and Latin countries. But in Buenos Aires I held the position of Professor of the Piano Department at the National University of La Plata, at the National Conservatory of Buenos Aires and a Chairwoman of the  Piano Department at the Provincial Conservatory Alberto Ginastera . As I was losing my loved ones including my mother, who was my heart and soul, I decided to not be a coward and move to New York, once Steinway had included  me as one of their roster of Steinway Artists in 1998."
Antonelli said it was tough at the beginning, she had to learn English and did not know anyone.  Her struggles were hard, but she had perseverance and people loved her.  She got help to bring her piano from Argentina, the one she had owned since she was 14 years old ,a  special gift from her mom.  "My landlord thought it was too heavy to be carried upstairs, so I had to return it."   But Finally  Steinway helped her to find  a studio where she could practice--but it had to be from 4 am to 10 am before they started with Recording sessions .  "I did not get sleep at all," but I was happy as time passed, she garnered the love of piano lovers and the rest is history.
Having delivered the Latin American and Spanish music to the classical world of New York has been my biggest mission and  accomplishment," admits Antonelli. The producer of several classical recordings of the Latin American masters, her three CD's  are something beyond words.  "Remembranza, Remembrance of Latin Sounds", "Esperanza, Sounds of Hope" and "Abrazando, Latin Embrace" on the  ALBANY RECORDS  label have become big hits in the classical music industry .The New York Concert Review critic Frank Daykin has described Rosa's cds as full of surprises and melodious compositions.  In his own words:  "Two of Piazolla's Four Seasons, Spring and Summer are played with great poetry and longing, amid the angular musical gestures of the tango underlying all:  the seduction, rejection, re-approach, and eventual union of two imaginary dancers in the brothel district.  Also Villa-Lobos is represented  by BachianasBrasileiras No. 4, its prelude movement showing the "Brazilian Bach" at his most neo-baroque with perfectly descending sequences that satisfy the ear to no end…..
Her book, " Piano: The Spirit of Technique and Interpretation" was published in the United States in 2013
Beautiful music, thanks to the innate talent of a wonderful pianist, Rosa Antonelli.
NEW YORK CONCERT REVIEW
Piano Performance, Rosa Antonelli, Alberto Ginastera Centennial
The program returned to music of Ginastera to close, the Danza del Trigo ("Wheat Dance" from Estancia) and Tres Danzas Argentinas. These were high points, showcasing Ms. Antonelli's lyrical expressiveness at its best. Incidentally, the Danza del Trigo struck this listener for the first time as having a strong kinship melodically with the second of the Danzas Argentinas, the Danza de la Moza Donosa, a longtime favorite. The pairing of the two together offered a glimpse into the musical soul of Ginastera – for which Ms. Antonelli is to be thanked. Both were played with real tenderness and were worth the trip by themselves.
Harris Goldsmith Reviews Rosa Antonelli
Argentinian pianist Rosa Antonelli, a Steinway Artist since 1998 is one of today's leading performers and a champion of classical Latin-American and Spanish music. She has toured extensively, with more than 1,000 concerts in Europe, Africa, Asia, Latin America and North America, and she is dedicated to performing and recording the works of these composers for audiences all over the world. including Argentinian masters Piazzolla, Ugarte, Gianneo and Guastavino, among others, to audiences all over the world. "Antonelli's inward poetry forced me to rehear, and revalue Piazzolla's Tangos, which she infused with an eloquence and inner communication…" – Harris Goldsmith, New York Concert Review
GALA HONORING COMMENDATORE ALDO MANCUSI
Rosa Antonelli was introducing her New CD " ABRAZANDO : LATIN EMBRACE " to the GALA HONORING COMMENDATORE ALDO MANCUSI
" On Sunday, September 27th, at the New York Athletic Club located on Central Park South, a gala celebration was held honoring Commendatore Aldo Mancusi and the life and legacy of Mme. Licia Albanese..."
"... Rosa Antonelli, piano virtuoso played "Invierno Porteno" by Astor. Piazzolla with great elegance, grace and style…"
By Nino Pantano
BBC Music Magazine
Excerpts from the review  BBC MUSIC MAGAZINE (to read the complete review, click here)
"...the Mexican composer Manuel Ponce ... whose romanticism is gracefully persuasive, and threaded through the disc is a fine collection of tangos by the great Astor Piazzolla ..." Invierno Porteno and Verano Porteno are sinuous delights ..."
"...threaded through the disc is a fine collection of tangos by the great Astor Piazzolla…no matter how calm their surface, these pieces are still powered by that driving muscular rhythm.".
BBC Music Magazine, October 2015
New York Concert Review. CD Abrazando Latin Embrace
Excerpts from the review  by Frank Daykin at NEW YORK CONCERT REVIEW  (to read the complete review, click here)
 ..." Dare I use the dangerous word "definitive" to describe Ms. Antonelli's innate understanding of this style and these composers? I fear I must, and I'm confident that she will continue to unearth and program the best of this unique culture and its music."
... " A beguiling CD just landed on my review desk, the sort of music that makes one long for a warm summer day and a cold drink to enhance the enjoyment. Rosa Antonelli, long a specialist in and advocate for lesser-known Spanish and Latin-American repertoire, has here assembled a dessert cart full of delicious and tempting treats."
..." she has either selected the non-obvious pieces, or made her own transcriptions of non-piano originals, a skill to be commended, as it was once assumed that all virtuosi had such gifts at their command." ..."She plays two of Piazzolla's "Four Seasons" of Buenos Aires, Spring and Summer, with great poetry and longing, amid the angular musical gestures of the tango underlying all: the seduction, rejection, re-approach, and eventual union of two imaginary dancers in the brothel district." ..."Villa-Lobos is represented by his Bachianas Brasilerias No. 4, its Prelude movement showing the "Brazilian Bach" at his most neo-baroque, with perfectly descending sequences that satisfy the ear to no end."
… "The music of Ernesto Lecuona used to be in the piano bench of every amateur pianist, mainly for his Malagueña or the other number from that suite, which had words added, The Breeze and I. Ms. Antonelli instead gives us two little gems: The Bell-flower and Vals maravilloso (Marvelous Waltz), both salon trifles that gain by being handled so poetically. The fading and slowing bell sounds in the first piece were absolutely ravishingly portrayed."
by Frank Daykin  for New York Concert Review
Fanfare Magazine. CD Abrazando Latin Embrace
Excerpts from the review by Huntley Dent at FANFARE MAGAZINE . Complete Review
" I was captivated by Antonelli's ability to create and sustain every mood in the program from Baroque dignity to the rustic exuberance of the Tres Danzas Argentinas by Luis Gianneo..."
" ...the warmth of this album's title is matched by piano music that has a beguiling allurre..."
"The noted Argentinian pianist Rosa Antonelli has distinguished herself as a cultural ambassador for a wide range of Latin American composers, giving US premieres at Carnegie Hall. Three world premiere recordings appear here: Piazzolla's early Llanto Negro (Black Tears), a dance streaked through with Afro-Uruguayan drumming rhythms; Piazzolla's melancholy tango song, Nunca, nunca te olvidé (I never forgot you); and Reverie by the long-lived Argentinian composer, conductor, and educator Alberto Williams (1862–1952)..."
" From the first tantalizing moment of Piazzolla's "Winter" and "Summer" from his Four Seasons in much of this music, we are told, qualifies as standard repertoire in Latin culture, but every piece was new to me. Buenos Aires, the sultry mixture of romance, menace, and mystery is hard to resist. ..."
By Huntley Dent
Rosa Antonelli: a Pianist of Beautiful Emotion
She started playing when she was just four years old, gave her first concert at seven and at twelve started to teach. Still playing the piano she has had since she was fourteen (she had it shipped from Argentina), Rosa is the true embodiment of a child prodigy, now grown up. Like most geniuses, she is humble, warm, passionate, gracious, and a joy to talk to, let alone listen to. Rosa, is hailed by critics as the leading expert of Spanish and Latin American music. T2C had a chance to get to know this prolific musician who resides in our community on West 57th Street.
Pianists From the Inside – July, 2012
'I felt connected to music right away'
My initial motivation probably came from my mother, who was an opera singer: she was singing all the time during my childhood and so I felt connected to music right away. Also, most of my other family members were musical hobbyists who played different instruments.
Reviews of Rosa's Carnegie Hall performance – October 15th, 2011
On October 15th at Carnegie Hall a star was born. Her name is Rosa Antonelli and that name will soon be flashing in lights at all the great concert halls all over the world. I have seen many "greats" at Carnegie Hall including the incomparible Horowitz and Rosa Antonelli is the closest I've seen to that master.
Rosa's performance was riveting. The sound was rich and emotionally powerful. Ms. Antonelli's artistry on stage was absolutely stunning; the musical poetry mesmerizing. The standing ovations were second to none and truly deserved.
- Joe Franklin, Legendary TV talk show host and current Bloomberg talk show host
Rosa Antonelli, an excellent Argentinean pianist, presented a recital of mostly Argentine and Spanish composers at Carnegie Hall (Stern Auditorium), a concert benefiting Action Against Hunger. Ms. Antonelli, according to the bio in the printed program, "is enjoying an active and varied career." She has made extensive tours of Europe, Africa, Asia, Latin and North America. Hailed as a leading exponent of Latin American composers, performing works by such masters as Piazzolla, Ugarte, Gianneo, Guastavino–among others–to audiences all over the world.
The concert opened with Floro Ugarte (1884-1975): his Two Preludes from "Suite de Mi Terra" (Suite of My Land). …This suite consists of three parts: the first, in Animato tempo, captures the motion of weeping willow trees and their shadows, depicting a scene of melancholy contentment. The second part, in Lento Tempo, describes with dramatic intensity the approaching darkness as night begins to fall. …
Next came Four Tangos by Astor Piazzolla (1921-1992): Rio Sena; Sentido Unico; Milonga del Angel; Chau, Paris. Piazzolla's music has become increasingly ubiquitous and popular… (After intermission, two more Piazzolla Tangos, written in 1963, were heard. Ms. Antonelli's performance at this concert was the World Premiere of the original piano version.)
Another Argentinean, Carlos Guastavino (1912-2000), followed the first four Piazzolla Tangos with Two Preludes: "El Patio" and "El Sauce from La Siesta." … The description in "El Patio" evokes the memory of J. Aguirre and depicts the traditional Argentinean weeping trees with soft flowing leaves whispering in the wind. The first half of the program ended with two works by Enrique Granados (1867-1916): his Epilogo from "Escenas Romanticas" and Allegro de Concierto.
After intermission, we heard two early compositions by Isaac Albeniz (1860-1907): Granada from his "Suite Espanola", Op. domain list 47; and "L'Automne Waltz", Op. 170. Ms. Antonelli played all these compositions 'con amore'. She is a dyed-in-the-wool Romantic Lyricist. Her always aurally beautiful and caressing pianism uses a lot of color via the sustaining pedal; she molds phrases with enormous flexibility, and there was never a hint of harsh, ugly or astringent glint to her lush singing tone. … Ms. Antonelli's inward poetry forced me to rehear, and revalue, Piazzolla's Tangos, which she infused with an eloquence and inner communication that, in truth, has sometimes eluded me.
Postludes to a memorably well-played evening, Ms. Antonelli's flowing, songful rendition of the early Chopin Nocturne in C-sharp Minor, Op. Posth. was an ideally fitting encore.
-Harris Goldsmith for New York Concert Review; New York, NY
Regarded as a leading pianist of Spanish and Latin American music to audiences across the world, Argentinean Rosa Antonelli made her Stern Auditorium/Perelman Stage at Carnegie Hall debut on Saturday, October 15th. The program featured works by the Latin American and Argentinean masters Isaac Albeniz, Alberto Ginastera, Enrique Granados, Carlos Guastavino, Astor Piazzolla and Floro Ugarte, as well as the world premieres of Piazzolla's two tangos – Our World (El Mundo de los Dos) and Imperial – of the piano version. Looking stunning in red, Ms. Antonelli is an interpreter of uncommon sensitivity and has a flare for the music. The Four Tangos by Astor Piazzolla and the two after intermission proved to be the highlights. Ms. Antonelli's nimble fingers played the stark themes with emotional clarity, but she plays with such fluidity that the darker material was almost ominous. The slow movements, contrasted tonally, but were tinged with sadness. Ms. Antonelli vividly brings this imagery to mind even while skillfully negotiating some intricate passages.
Albeniz, Granada from his "Suite Espanola", Chopin Nocturne in C-sharp Minor, and Op. Posth brought out Ms. Antonelli's poetry as she caressed the keys like a lover whom we were peeking in on, voyeuristically. Her movements on the keys were only highlighted by her use of sustaining the pedal. Ms. Antonelli is a romantic ethereal creature and her choices in music left us wanting just a little bit of hell. Not speaking during the concert and playing few upbeat numbers made us wish for breaks in the soul searching music and more of the raw passion. Ms Antonelli's music is sure to cure any stress problems and cure the beast within.
This concert also benefitted Action Against Hunger. On second thought, why ask for hell when heaven was here at Carnegie Hall?
-Suzanna Bowling, Times Square Chronicles
Review of Rosa's October 24, 2012 Performance
At a Harvardwood-sponsored recital at the Down Town Association, the Argentinian pianist Rosa Antonelli demonstrated why critics and audiences have held her in high regard throughout her career. The program consisted mostly of works by well-known Spanish composers (Isaac Albéniz and Enrique Granados) and tangos by Astor Piazzolla, the Argentinian powerhouse whose seemingly countless works incorporate jazz and classical harmonies into the popular tango form and lend themselves to a variety of arrangements including, as evidenced by this concert, solo piano.
Fanfare Magazine Reviews on her CD REMEMBRANZA by Albany Records Label
…Antonelli is considered a leading exponent of Spanish and Latin American music. One can easily see why: her playing is temperamental, vital, confident, and it beams with a sense of purpose and physicality that perfectly suits the dance rhythms that characterize much of the future repertoire and most notably the Piazzolla, Villa-Lobos, and Nazareth works that open the program.
Fanfare Magazine Interview with Rosa Antonelli – March/April 2013
Con Amore: A Conversation with Rosa Antonelli (By Robert Schulslaper)
Time flies. It seems that only yesterday I was speaking with pianist Rosa Antonelli about her forthcoming Carnegie Hall debut (Fanfare 35: 1). Today, that happy occasion is more than a year in the past, but Rosa's not one to let the grass grow under her feet: She's recorded a new CD, Remembranza: remembrance of Latin sounds, which I'm sure her many fans will enjoy.
Q: Hello Rosa, it's good to see you again. First of all, congratulations on your successful Carnegie Hall debut.
A: Thank you, Robert.
Q: As some, but not all, of your program is repeated on Remembranza, I was wondering how the two events might be related. Had you made plans to record the CD before the concert?
A: This is a very interesting question, because before you came, I was reminding myself to tell you about the connection with Carnegie Hall. I was going to record the CD anyway, but the two events are linked through the title, Remembranza, which has special significance for me. I wanted to remember both the Carnegie Hall experience and the fact that I performed a program consisting only of Latin music. Albany Records encouraged me to play anything I wanted, but Esperanza [Rosa's previous Albany release], which concentrated exclusively on Argentinean classical composers, was so successful that I said to myself, "Oh, I'm going to record many of the Latin flavored pieces I played at Carnegie Hall."
Q: Two of the Piazzolla tangos you played were New York premieres.
A: Yes, and they're on the CD, but there are two more, which were premieres for me: Adios Nonino and La ultima Grela.
Q: Granados's La maja e el ruisenor (The lady and the nightingale)] is another "non-Carnegie" selection.
A: I love that piece but the program was already so long, so I had to choose. However, I did play his Allegro de Concierto and Albeniz's Granada and L'Automne Waltz at Carnegie Hall, along with some Ginastera, which had already been recorded on Esperanza. A private reason why I chose to record some of the Carnegie Hall program is that I'm never happy with my performance. I'm usually 95 percent unhappy and only two or three happy, no? [laughing]
Q: That's a tendency that musicians have.
A: We are always hard on ourselves. But about this concert at Carnegie Hall, I have to tell you that I was, of course, completely, absolutely nervous before - the whole year before. I was nervous when I went to practice, with the rehearsal, and everything, selecting the piano... I had a choice between a Steinway from Germany and a Steinway from here and I eventually decided on the New York Steinway. It was harder to manage the sound, but in the end it was better.
Q: Was that because of the action?
A: The action. But I felt I could make my sound. I could work with my sound. Whereas, with the other...
Q: It sort of got away from you a bit?
A: Yes. Exactly. So even if I would be exhausted sooner, I felt that my strength as a pianist is my sound: The way I can connect my sound from my heart. Even if I could look more virtuosic playing the other one, because it was easier, I felt I'd be more warm, more musical playing the American Steinway. The last day before was a nervous breakdown, I spent the whole afternoon choosing, and when I saw the hall, standing alone on that stage looking out at the 2,800 seats, I said to myself, "how I'm going to do this?" Even if I've performed in big halls before, Carnegie Hall is Carnegie hall. If I don't do well, it's better if I move to another country [laughs]. All my reputation, all these things I've built in my life, would be... no? Then, the day of the concert... you know I live two blocks from Carnegie Hall? The concert was supposed to start at 7:30 p.m. and at 6:45 I was still home! I got the call from one of the people from the staff of Carnegie Hall: She was so nice, she said, "Rosa, are you coming?"" It's funny [laughs]. And I said, "Oh yes, I'm running now, I'm coming right now." And I said to myself, "Maybe she thought I got stage fright," I don't know. Then, when I arrived at the hall, when I was in the Maestro room, I always pray, no? And I've always said, "You have a choice," which is one of the biggest gifts that God gave us. Either you will make this concert one of the best of your life, or you'll ruin everything. A lot of this has to do with my disposition, with my happiness, with my feelings. How do I want it to be? What was my desire, my wish? But then, when I went downstairs and opened the stage door - it makes me cry to remember - I said, OK, the hall is going to be, I assumed, only 30 percent full.
Q: You didn't know how many tickets were sold?
A: No. They wanted to tell me, but I didn't want to hear, I didn't want to be sad in advance if there were very few people in the audience... sometimes I've gone to concerts and felt sorry for the artist when the attendance wasn't good. So I tried to picture to myself, if there are very few, I will do the same as if it's full. By the way, I forgot to tell you. Besides praying, one ritual I always follow is that I dedicate the concert to my Mommy and I put a rose on one of the seats as if she's there.
Q: That's very sweet.
A: I opened the door and they started clapping so much...
Q: Did that put you at ease?
A.: Yes, because even though I had determined to do my best, their welcome was so warm that it inspired me. And I said, "You know something, tonight I'm going to give you my heart."" And that's the way I walked to the piano. And I had an amazing experience which I've been having during the last two or three years, which I was embarrassed to talk about until recently. I've never spoken about it until two or three weeks after the concert, when I had lunch with Carroll Baker, the actress.
Q: I know that name.
A: Yes, she's very famous. She did Baby Doll. I met her at the National Arts Club. She's become one of my fans, now, so I felt it was all right to discuss what I'm about to tell you with her. Also, I was curious to know if she'd ever felt something similar, as she's a performer. What happened was that I felt I was watching myself at the same time as I was performing, and thinking, "Oh my God, this sounded so well, this music is so good... oh now you can breath more, you can wait more," like I was listening to another person.
Q: I wonder if that could have been partly related to the wonderful acoustics in Carnegie Hall, so that when you're playing on the stage the sound is simultaneously enveloping you. Does that make any sense?
A: Yes. But you know, I don't think it's only that because it happened so many times over the last two or three years in all sorts of locations.
Q: This reminds me of the so-called out of body experience.
A: Bueno. But, I didn't want to tell anybody because I thought they'd think I was crazy.
Q: Oh, that Rosa Antonelli, she's a little... [big laughs from both]
A: And then as the concert continued the experience intensified. Plus, when I saw the hall was full, I felt all this pride because of the pieces I was playing. Because one of the things I was concerned about... I mean, when I go to Carnegie Hall, I read the programs of previous performances. I'm always there, sometimes to rehearsals, and it's not often that you see a classical soloist playing an entire Latin program. But I needn't have worried, because when I played I could feel that all our hearts, mine and the audience's, were brought together by the music.
Q: I imagine you would have been less apprehensive if you were playing such a program in Latin America?
A: Yes, but it's rare in Carnegie Hall. And even in Argentina, they don't do it! But after Esperanza, when I saw the success it had, that most of the American people said, "When you play these pieces, I want to be there," I thought, "you know, maybe they need something else in Carnegie Hall." Still, I was conflicted, because even though people love this music, I didn't want to be pigeonholed: "She only plays this." However, I took courage from the knowledge that it was only in the last two years that I've concentrated on Latin music. My whole life up until then was devoted to the classical repertoire.
Q: When you think of it, why shouldn't Latin music be taken just as seriously, it's beautiful, it's well written? I suppose I'm thinking of the critics, because as you said, the general public is very receptive.
A: Yes, and I think they like to hear new things. They are very curious. Also, there's a big Latin population here, very big. For many people, Latin music is kind of exotic, kind of different, but at the same time familiar, because of the European element. All of these composers, which I will never be tired of saying, all of them studied in Europe as well as in Argentina. All of them. Piazzolla, for example, he studied here in New York, he studied in Europe, he studied in Argentina. Ginastera studied in America with Aaron Copland, and so on.
Q: Is there any Latin American classical music that doesn't have European influences? Perhaps some of Villa-Lobos's compositions, in which he incorporated or imitated native Indian themes, but even there he used European harmony.
A: And in popular music, the tango includes a mix of African, Italian, and Gypsy music. Even the bandoneon, which is so identified with tango, originated in Germany. But to go back to Carnegie Hall, what I was trying to say was that it was a whole experience. I will never forget it for the rest of my life. When we came back home the house was filled with flowers, hundreds of them. But before that, we had been to the party at Steinway. It was funny, because two of my friends, Norman Horowitz and Melvin Stecher [duo pianists], were there and when I arrived, Melvin walked over to the door and said, "Rosa, we were so nervous" - they've performed often at Carnegie Hall, so they knew what it was like - "we were in the first tier, we were freaking out and then when we saw you walking out onto the stage, you were so relaxed. You didn't have any nerves." It was such a happy time. It was so nice, because they were calling me for the last four or five months before and they would say, "How are you doing?" "Oh, fine, fine." "How are you doing?" So finally, what happened, I was so happy, I came back home and went to sleep. Suddenly I woke up in the middle of the night and looked at the watch, I didn't see the time, and I said to my husband, Robert, "Oh, my God, I have to get up to practice! [laughter] The concert is tomorrow." And then he said, "No. You already played it. It was yesterday."
Q: That's really funny.
A: But listen. And I said to him, "No, no, no. This was so beautiful, that was a dream." So he said, "A dream? Go to the living room and look at the flowers." You can't imagine for how many days this went on! Each time I saw the flowers I said, "Oh, this has really happened." I cried because I was so happy. Then the day after, "Oh my God, I have to get up to practice! The concert is tomorrow." "No, you really did it (Robert) Go to the living room."
Q: Was he worried about you? [laughter from both]
A: You know for how long this happened? At least 15 days. It shows that it was such happiness for me, such a strong, beautiful thing in my life, that I couldn't believe it was true. I couldn't believe I did so well. I didn't have mistakes, I didn't have nerves, because sometimes you don't have mistakes but you cannot connect with the performance. You say afterwards, "Oh, you know, I was so cautious I didn't have any mistakes..."
Q. But something is missing.
A: Yes. I prefer to make a mistake and have the other part.
Q: You don't want to be inhibited. You want to be free.
A: Yes. You can be perfect technically and people leave the hall without feeling anything. I always used to ask my teacher, "How do you know when a pianist was good?" I was curious to hear his opinion. He said, "If you go to a theater and after you leave you feel different than when you went in, it was a communication. If you leave in the same way you went, that means the active part wasn't there." So what I meant about happiness was that not only did I play well but I could show my feelings almost a 100 percent: I don't want to say a 100 percent, but almost. I was completely free...
Q: Will you play there again?
A: Oh, yes. I was very encouraged by the response from everybody at Carnegie Hall: The people from the box office, the ushers, everybody, when I went there after to other concerts, everybody was asking me, "When are you playing again, when are you playing again, when are you playing again?" which also was a beautiful thing for me. This is why it lasted 15 days, I kept thinking, "Oh no, that was a dream."
Q: It was too good. It was too beautiful.
A: Exactly. It was too beautiful it couldn't be true. Now I had to get up and practice. (laughs).
Q: Besides living the story you've just told me, did you listen to the performance right away? I know you had someone filming it.
A: Oh, bueno, they gave me the archive DVD.
Q: How soon after the concert was that?
A: I think one week after. But when I got the DVD - I sent my assistant to pick it up - I never could watch it, I would start crying. When I saw myself walking out to play the first part, I couldn't get past it. As soon as I heard the reception I had from the audience I started crying: I couldn't watch. You know when I watched it? October 20, 2012, one year after. And even then, I could only watch a few minutes, partly because, as I told you, I'm so hard on myself. I was once sitting on the beach in Brazil and heard a tape of someone playing the piano, very nicely, I thought. Then I found out it was me. I think that was the only time I had a completely satisfactory impression of my playing!
Q: Let's talk a bit about the CD. Would you like to start by saying something about the Piazzolla tangos?
A: All right. The first piece, La Ultima Grela, describes a woman from the cabarets in Argentina who had a very sad life, a very dark life...
Q: Like Edith Piaf.
A: Yes. The lyrics are the thoughts of someone who was in love with this woman, who saw her through this dark life, and in the end, she died. I was rehearsing a lot to see which pieces by Piazzolla I would add besides the two I played in Carnegie Hall, and these tangos [La Ultima Grela and Adios Nonino] touched me so much. Why? The music, compared with the other Piazzolla pieces, is not complicated. Piazzolla is usually very complicated for the fingering, the way the chords and the jumps have to be negotiated. It doesn't look hard but it is. But this is simple: It's so simple that it has the beauty of the simple. And I, when I was learning it, I pictured the dancers. I pictured only two dancers through the whole story and I felt I could make so many grades of touch and sound, because it starts with a repeated note - b,b,b,b,c,c,c,c - and I said, "Oh wow, are people going to like it? How can I make it interesting?" Then when I went to the studio recording, it was the first piece I played, because it's the easiest technically and I used it like a warm-up before the others. And the engineer and the people there, they loved the piece.
Q: As you know, there's much more to music than flashy technique.
A: Exactly. It's much more involved that that. And the other tango I chose, Adios Nonino: I have a special story about this tango, because I said "I want to hear how Piazzolla played it" because he played this song on a bandoneon. And then I heard it and I said, "What do I feel about this tango?" There was something I couldn't understand.
Q: You sensed something elusive.
A: Exactly. Because in Italian, Nono is grandfather. So Piazzolla called his father, Nonino, instead of Nono. He wrote this tango when he was on tour in Latin America. And they called him and they said, "Your father died." So he came back and he wrote this piece. But I sensed something that doesn't have to do with death.
Q: It's not necessarily sad, or at least not always.
A: Exactly. I said to myself - I didn't read it anyplace - I said to myself, "I know what it is, because I know how much he loved his father." Probably in these first 16 or 20 measures - I don't remember, it's like eight phrases - I think he's remembering when his father was alive, because the first part has plenty of life with a big rhythm... You see, going to record and interpret, I needed... for me to perform I need to understand the feelings completely. Now listen what happened after. I was sure that in these first measures he was saying, "Daddy, this is what we had when you were alive and now I'm talking about what it's like now that you are not here." Because the middle part is, ay, my God!
Q: More tragic?
A: It is really sad. I feel to cry when I'm playing it. But in the first part... I talked about this to a friend, saying, "You know, I hope I had the correct feeling because I don't feel the first part is sad. And yet he may be really sad." So I was investigating, investigating, and I asked a friend of mine in Argentina to help me in the research. She sent me an article she found, of course in Spanish, about Piazzolla. You know what I found? Many years ago, he wrote a tango called Nonino when the father was alive. The first part of the tango was the one he took for the final version. It means I was right! When I found that, it confirmed what I felt exactly... Robert, he took it, practically he copied it. In the original Nonino almost the whole tango is about those measures. Then I did something that also was a challenge for me, because at the end, the sad part is repeated four times, but I didn't want to make each time the same. Because when you are sad it's never the same and also in music I don't like to do the same measures the same way twice. I thought, "What would I really feel if I had this melody four times being really sad?" So I did it like when you are so sad that you are desperate and I ended, instead of soft, I ended with a great drama and a great feeling of saying, "This is what it is."
Q: How is it notated?
A: There are no dynamics indicated.
Q: So you felt free to play it the way you wanted. Would you ever ignore a composer's written dynamics?
A: Never.
Q: Because there are people who do, sometimes very effectively.
A: I never ignore them, especially after Beethoven... however, in the Piazzolla, the end is open, so he's giving the interpreter the freedom. When I played it at the Downtown Association two months ago I performed the same version that I did on the CD, ending as I told you, and people loved it. People loved it! The other two tangos are the two I played at Carnegie Hall, Our World and Imperial. I was initially given the opportunity to play Our World because Albino Gomez, who was the person who wrote the lyrics, heard me perform at Lincoln Center. He was a friend of Pizzolla's, and after he listened to me he told me that he had a piece that was never played on the piano and that he thought I was the one to do it. And it was this piece. Our World was based on a true story about Piazzolla, about how he fell in love with a person in the summertime: It was a summertime love. It was ending, it was very short, and the song describes all the happiness they had and all the sadness. Very, very sad piece. All the sadness they had when they had to separate, it was over, no?
Q: Had you met Albino Gomez before?
A: No. He came to my concert with Georgina Ginastera [the composer's daughter] and this is the way I met both of them: I didn't know them in Argentina, never.
Q: And now she travels around the world to hear you.
A: To hear me, yes. She wrote this beautiful poetry about my interpretation of her father's music. Imperial, the other Piazzolla tango dates from when he was in France. He was fascinated by all the castles, especially Versailles, and he tried to capture some of their magnificent architecture in his music. France was also important to him because it was there that he studied with Nadia Boulanger. She was the one who sensed that the tango was his metier. He wrote everything, symphonies, concertos, but she told him that she felt he had a special talent for the tango.
Q: Looking at photographs of her, her severe expression might lead you to think that she wouldn't appreciate "light music." That somebody so thoroughly steeped in classicism and counterpoint wouldn't appreciate his talent for the tango.
A: Yes. But as we all know, she was right.
Q: How many tangos do you think Piazzolla wrote in his lifetime?
A: I don't know, but there were many. Sometimes I feel sad because when he was alive nobody gave him the credit he deserved. But now it's growing and growing and growing. In my first interview, I said that at first I didn't want to play the tangos, I rejected them and I didn't know why. But after this friend in Argentina forced me to go to see the movie, The History of Tango, I realized that I didn't want to face my own melancholy. Because what the tango is, it's the music and dance of people from Europe who moved to Argentina and found they were alone, they didn't have family, they had to start everything all over, even if they had money before. They may have had wonderful professions when they were home. My grandfather was a railway engineer in Italy. When he went to Argentina, he went to work in ice factories and he lost all his molars because of the cold. Until he slowly, slowly, slowly built a life... he was one of the best engineers, and he finally found his way. And being that all my family were from Italy, when I finally faced what I felt, I could play the tangos with all my heart.
Q: How did you react to tango before you came to this realization? Would you leave the room?
A: Not leave the room, but I would feel, "It's not for me."
Q: Did you think it was low class?
A: Yes.
Q: I'm a serious musician! (laughing)
A: Yes, you are reading my feelings exactly. Now, I'm proud of playing it. I said, "How could I be denying myself all those years? No?" Now I love to do it, I feel a special connection with the tangos, and I feel proud that Harris Goldsmith wrote in New York Concert Review that he didn't appreciate Piazzolla until he came to my Carnegie hall concert.
Q: Do you feel a special identification with him?
A: Yes. With Piazzolla I understand right away what he tries. It's very important, for me, it's natural.
Q: Do you think it's because he was Argentinean?
A: No. It's something else, because I know other Argentinean pianists who try to play Piazzolla and they say to me, I don't understand that much. Because when you see the music you don't have that much besides the notes. There are not so many indications. And sometimes you have to add notes from the chord because they originally come from the bandoneon, they come from the orchestra. Actually, I added a lot of things in the piano version.
Q: Did you write down your additions?
A: Yes, I wrote them down. If you see, for example, the music for Our World, one day I'm going to show you how it was originally. And then, how much I added...
Q: So you didn't feel inhibited to do that?
A: No, because he wrote many times what was really a reduction from orchestra or bandoneon or from his quintet, so it's not breaking faith with him to suggest alternatives.
Q: Have you ever done any composition?
A: Yes, I like it very much. When I was 15 years old I was happy composing...
Q: Why did you stop?
A: Because it was a whole other job and I didn't have time. I studied composition at the conservatory and then I used all the knowledge I achieved there to apply to my interpretation.
Q: When you did compose did you write in a Latin style?
A: In a classical style but at the same time romantic. I wrote a lot. But then I said, this is no good, I love it, but I love more to interpret and then I stopped. But now I realize that I might have this kind of natural approach with Piazzolla because I wouldn't even remember all the things I added: chords, extra notes, like in the left hand... because sometimes the scores are so raw. For La Ultima Grela, which is so simple, I didn't need to add that much. But in the others I added a lot.
Q: That's a question of your personal taste.
A: Yes. But obviously, what I'm proud of is that my personal taste made Harris Goldsmith understand Piazzolla.
Q: You play Villa-Lobos on your CD: have you always liked Brazilian music?
A: I can tell you that I fell in love with Brazilian music when I was living in Teresopolis, in the mountains. I went there to study when I won a scholarship and all the time I was there I was hearing Brazilian music. Not only from my colleagues but from the street. I had this great, great teacher there, who I always mention in my biography, Daisy de Luca, who studied with Magda Tagliaferro. She's living in Florida now. I contacted her, finally, last year. She always said to me, you have a special talent for the stage. She wanted to bring me here, she was a teacher at Indiana University. She taught there for many, many years and when I met her in Brazil, she said, I want to get a scholarship for you. I said I didn't want to come because I didn't speak English. She said it doesn't matter...
Q: You speak music.
A: Yes. Sometimes I regret I didn't accept it. But you know, life is what it is. And I ended up here anyway. Back then she introduced me to a lot of Brazilian composers and I fell in love with Villa-Lobos. Around that time I got the music for his Poema Singelo and Valsa Da Dor, but I didn't play them for a long time even though I loved them because I was playing other Brazilian pieces, Villa-Lobos pieces. For some reason I kept those two pieces to myself. It was only when I appeared at Weill Recital Hall on my arrival in New York that I finally played one. I am in love with Valsa Da Dor. It's amazing how he managed the form of the piece, the way it alternates sorrow and drama. I have a copy of the original manuscript from the Museum in Sao Paulo and when I studied it I felt that each of the three times the sorrow appears should be played differently. And then I found in a small letter where Villa-Lobos himself said that the first part should be a little bit faster, the second part Moderato, and in the third part, the sorrow is Lento. This is why, when I hear other pianist's interpretations, their performances are often faster than mine: They do all the sorrowful parts at the same speed while mine is longer because I respect the composer's wishes.
Q: The other Villa-Lobos piece, Poema Singelo, has some very lively parts and it seems to require a lot of dexterity.
A: Yes. A lot of dexterity, there's a lot of intricate chromaticism. What I have found in his pieces is that you have to take your time to make the connection between the different parts: They are so different in each piece of Villa-Lobos. His mood can change abruptly. As an interpreter I want to make everything clear to the audience and in this music I don't have the luxury of saying "here's the first movement, now here's the second," and so on. Nazareth is different in that I don't have to struggle to integrate the various parts of each composition. His tangos are very famous. The rhythms in most of them are the same but it's very alive. And I love this Odeon piece.
Q: Is it named for the theater?
A: Yes. He played there himself. It's beautiful. It has three parts. One is imitating the guitar, the second is more melancholic, and the last one is like a tango tango - the epitome of a tango. My audiences really, really like this piece. I don't like it when pianists play it fast straight through because I think it has to so much beauty, there are so many things you can do there, and I try to do that. The same experience I have with - I'm going to Spain now - La Maja et el ruisenor. I love that piece. And I feel why Granados identified himself with Goyescas. Because he felt that he could recreate in all these pieces the ultimate romanticism. A treasured memory of mine is of hearing Alicia de la Rocha playing La Maja.
Q: Was she the first person you heard playing this piece?
A: No, but I heard her playing it in Spain when I went to the seminar, and I fell in love with it.
Q: It's a wonderful piece. As a matter of fact, I think I first heard it on a piano roll that Granados himself made.
A: Yes, I'm very sure there was one. When I heard it, I said, this is the piece I identify my romanticism with.
Q: It's a perfect piece, a lovely piece.
A: The dialogue between the nightingale and the woman.
Q: I haven't heard any performance but yours recently, but I have a feeling you made more out of the introduction than some other pianists. I don't know if I'm right, but it seems you play it slower, with a deeper tone.
A: No, no, no. You are so sensitive. It's true, I do it as you say, because for me that part is a dialogue, it's an introduction to what comes later. Many pianists play that part faster but I wanted to give to each sound a depth... You know, sometimes I think people are going to say that my performances are longer than in other interpretations, but it's not because I cannot do it technically, it's because I found other layers of expression. The same happened to me with the Allegro Concierto [Granados], which is of course technically very difficult, but I try not to rush too much. When we were recording it - this is very funny - I was with the engineer and after listening to this so much myself I was having a hard time deciding which take to choose - this is the worst part, to choose, it's very difficult - then I said, oh, this is faster, maybe this is... but he said, Rosa, I like the other, I understand it more. He was just the engineer but that helped me so much.
Q: You trusted his opinion?
A: Oh, yes, completely, because he's a great engineer, great musician. And then when I listened to the one I chose, I was happy, because in the middle part the lyrical part, why I should rush there?
Q: I think you'll appreciate this anecdote as recounted by Harold Schonberg in his book The Great Pianists: "Recalling Clara Schumann, Adelina de Lara wrote that if a student tried 'to rattle through any rapid figuration with mere empty virtuosity,' Clara would throw up her hands in despair. 'Keine passage!' she would cry. 'Why hurry over beautiful things? Why not linger and enjoy them?'"
A:[laughs] You see! Yes. I really, really love the Allegro. I never get tired of performing it, I feel very comfortable. I feel that the romanticism at its heart has to be shown. You have to show the romanticism in the middle, no? Even if he wrote it for a competition, to be the most difficult piece, he never lost the romanticism and the beautiful... When I'm playing the piece, I don't feel I'm playing just a technical exercise.
Q: Well that's the challenge in playing an etude, isn't it? You want to make music, which is not always easy because some of them are so hard. [both laugh]
A: And now I'd like to say a few words about the other composer on the CD, Albeniz, whom of course I love. There are two pieces from his Suite Espanola, "Cadiz" and "Granada." "Granada" reminds me of my year living in Spain after I got the Rosa Salvatore award: All my feelings from Spain come back to me, the happiness of the people, their enjoyment of life, the romanticism... I love "Granada." I love "Cadiz" also but I'm especially connected with "Granada" because it's such a serenade. It's like... it's a special piece you would play to show your feelings to somebody else. Imitating the guitar, the flamenco... This is why Remembranza is not only about Carnegie Hall; it's because Carnegie Hall made me come back to the places I love to be, like when I was in Brazil, or when I was in Spain... And they were those places where I was really, really happy. Like when I was in Brazil and the other students went to Rio de Janeiro on the weekend and I kept practicing for myself for two days, Saturday and Sunday, all the pianos for me, no? And when I was in Spain and it was such a wonderful experience, meeting Alicia de la Rocha, meeting Daisy de Luca in Brazil, getting all her experiences from Magda Tagliafero, all of this. And then, at the end of the CD I play L'Automne Waltz because I believe that a recital should be like a flower: it's the sum of its petals, and in this case, L'Automne Waltz completes the design. I've had it for a long time in my music collection, and I said, "One day I'm going to learn it." Then I found out that in New York nobody had played it and it had only been recorded once. And of course I love waltzes. I love this piece. There's so much you can do to recreate - in each repetition you can recreate a new thing. No? And at the end the coda gathers all the different waltzes [the piece is composed in sections, each with its own waltz]. They come together like a recapitulation of the whole waltz. The coda is itself marvelous. It's not a very, very famous piece, but it was the right one for the occasion. And when I hear it, I remember what Harris Goldsmith wrote, that I played all those pieces at Carnegie Hall with amore.
Q: Well, Rosa, I think it's true that everything on Remembranza is also played con amore. So thank you for a most pleasant conversation, and best of luck with your future projects.
A: Thank you so much, Robert. Ciao.