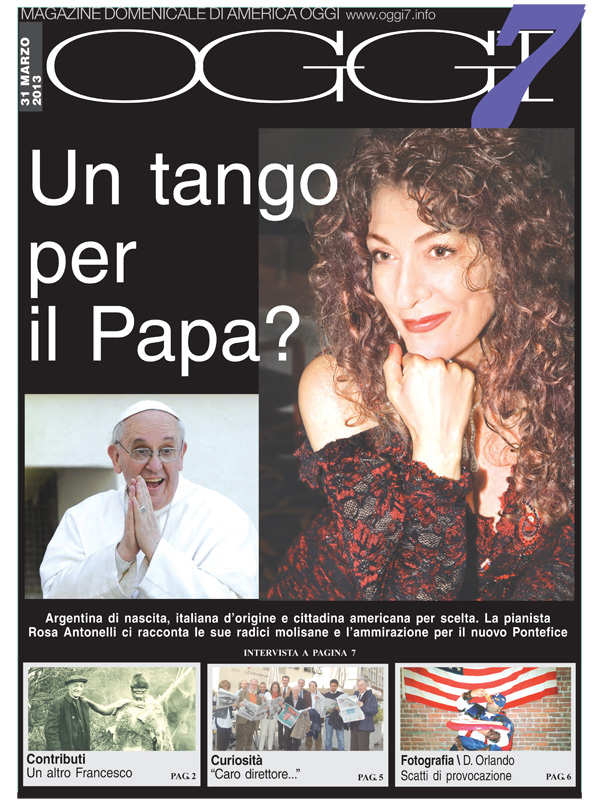 (Article)
A conversation with Pianist Rosa Antonelli
Many cultures are reflected in Rosa Antonelli's God-given pianistic talent. Argentinean by birth, Italian by origin and American by choice. Who can be more multiethnic than she is? We had the opportunity to get to know her more personally and talk about the release of her new CD, "Remembranza" (Albany Records), with the subtitle: "Remembrance of Latin Sounds". The pieces are poetic, evocative and immersed with the spirit of Piazzolla, Villa-Lobos, Nazareth, Granados and Albeniz. But before knowing the heart of the persona of Rosa and learning about her artistic tastes, we were eager to get to have a conversation about another supreme wonderful Italo Argentinean; Pope Francesco, who had just ascended to the Throne of Pietro.
What do you think as an Italo Argentinian artist, about Francesco I Pope as an Italo Argentinian?
I take great pleasure in knowing that the new Pope is an Argentinean-Italian and I also find some intriguing coincidences in his life story and my own. We both studied philosophy, for example. His father was railway worker, same as one of my grandfathers, Antonio. I was raised in a town close to San Miguel, a province of Buenos Aires, and Pope Francis studied philosophy and theology there. When I was a student at the "Facultad de Filosofia y Letras" in Buenos Aires, I heard a lot about him, when he was rising in the Catholic Church and I admired him very much. I too have a religious impulse, for as a child I wanted to be a nun but my mother convinced me that my future was with music. I practice Catholicism but, like our pope, I believe that all religions are worshiping the same God. After a 1994 bombing attack of an Israeli building, which was 3 blocks from where I lived, leaders of the Jewish community around the world noted that Francis' words and actions "showed solidarity with the Jewish community". I think that because of his humility and simplicity, which comes from a spiritual wealth of knowledge and an enormous desire to help from his heart, the entire world will benefit from his leadership and example. I try to have humility and simplicity as a person and then as an artist, allowing the spirit of the composers, and the angels to flow through me. In that same way Francis is humble and simple and this allows the true Spirit of God to flow though him. Also as an artist, a concert pianist, I would love to honor him with a performance, celebrating his truly deserved election as head of the Catholic Church and Sovereign of the Vatican City State.
"Remembranza", memory and recollection of Latin rhythms only? Memory of whom and what?
The title Remembranza symbolizes my love for Latin American music which took form during the years I lived in Argentina, Brazil, and Spain. Each of these countries has its own style, so in a way, to call them all Latin American is a trifle simplistic. Granados and Albeniz, for example, are only superficially related to Villa-Lobos or Ginastera. And then, what would one say about Piazzolla? An Argentinean to his fingertips and yet of Italian descent who studied in Europe and America. One could write a treatise on their interrelationships and diversity. I myself am of Italian descent, and so some of my most treasured memories pertain to my performances in Italy, particularly at the Palazzo Visconti in Milan, Italo Iberoamericano Institute in Rome, in Naples and Venice. So I think it safe to say that there's an innate sympathy between the Italian and Latin American feeling for music: each is romantic, sensitive, and lyrical. So in many ways, Remembranza summarizes all my prior experiences through the Atlantic path.
Engaging pages full of melancholy and nostalgia, but also rich in sudden and full joys. In which do you recognize yourself the most and why?
The prevailing melancholy and nostalgia, which for me are the most powerful emotions, symbolize the struggles of those many immigrants, my family among them, who flocked to Argentina in hopes of escaping the devastation of the Second World War and starting a new life in a new country. However, I resisted these feelings for a long time, so much so that I wouldn't play tangos and indeed looked down upon them. Such a mix of passion and drama! But one should emphasize that there's more to this music than melancholy or passion. The sudden joys, as you so beautifully express it, for me are equated with aspiration for the future. This is why Esperanza is subtitled Sounds of Hope.
When did you begin to play the piano? And how do you explain the choice of this particular instrument?
My initial motivation probably came from my mother, who was an opera singer. She was singing all the time during my childhood and so I felt connected to music right away. Also, most of my other family members were musical hobbyists who played different instruments. My relationship with the piano started in a "Mysterious" way because something about the instrument attracted me immediately, even before I'd played it. When I went to kindergarten, I saw a grand piano and told my mother that I wanted to play it. I started playing the piano at 4 years of age. My first public concert happened when I was seven years old. I was very nervous before going onstage, but once there, it felt so natural and comforting. I wasn't excited with a new dress or a new doll. I remember that nothing else gave me more joy than when I was told that I would be playing in a concert. Besides my mother, I would say that the person who most influenced me as a pianist was my first piano teacher Maria Luisa Carfi.
Piazzolla, Gianneo, Guastavino … is there any Italian hint in them? And, if so, how can we find it?
I believe that the Italian heritage shared by these composers permeates their music in an instinctive, even spiritual fashion. There is a presence beyond analysis, more suggested than explicit. And all of these composers didn't only have to rely on their ancestral memories: each of them benefited from scholarships to study in Europe, so that influence was not merely anecdotal or "mystical." Piazzolla had more than a hint of Italian in him. He was the only child of Italian immigrant parents. His grandfather was a sailor from Trani, Apulia in Italy. In the 1930's the family lived in Little Italy in lower Manhattan. When he formed a chamber music octet, almost all of the musicians were of Italian descent. His teacher, Alberto Ginastera, was also of Italian heritage. Piazzolla had strong Italian roots that continued his whole life as demonstrated in 1959 when his father died. The Tango that he wrote dedicated to his father was called "Adios Nonino", from the loving name he called his father, Nonino, which comes from the Italian word "nonno" which means grandfather. By the way, I play "Adios Nonino" in this CD, Remembranza. Gianneo was born in Buenos Aires into a musical family of Italian immigrants. He served as the organist at the Church of St. Francis. In 1938 he received an award from the National Cultural Commission to visit Italy, among other places, to absorb the latest musical trends. One of his sons was born in Rome. Guastavino is obviously an Italian name and has many European influences. Most of his written music is inspired particularly from the Bel Canto style of the Italian operas of Bellini, Rossini and Donizetti.
Any influence from other great Argentine pianists such as Martha Argerich and Daniel Barenboim? Any European influences (Italian in particular)?
There is a connection with Martha Argerich: I studied with teachers who themselves were pupils of Martha's teacher, the Italian Vicente Scarmuzza. Another Italian whose music has been a great influence was Domenico Scarlatti was one of my favorite composer, his sonatas are a fascinating combination of Italian melodic charm and harmonic invention coupled with Spanish rhythm. Turning to Daniel Barenboim, he influenced me in his experience as he unites in his person the Germanic and Latin musical inclinations and proves that one person can successfully inhabit both worlds. That also reminds me of Chilean pianist Claudio Arrau.
What connection, not just artistic, do you have with the "old" Europe, especially with the Mediterranean region?
My family used to gather regularly to play and sing "O Sole Mio", "Torna A Surriento", Mamma", "Cuore ´ngrato" and other songs from the irresistible Italian folk. My mother's parents had a farm in Isernia, Molise, about one and a half hours from Rome, in the town is Sant'Agapito. I keep in my heart and minds-eye the landscape there and often go there in my imagination to meditate and relax. I lived and studied in Spain and Italy. I have many friends in Greece, Spain, southern France, Lebanon, Egypt and Israel. So far, I can say I am Mediterranean. Before I moved to the United States, my long-held plan was to move back to Italy.
American citizen since 2006, Argentine by birth, Italian by ancient origins: How do you consider yourself the most?
Can someone be truly Italian without living in Italy? Yes. I am Italian, but at the same time I am an Argentinean too. I am proud to belong , as every immigrant, with a dual "citizenship", and I don't mean merely for using a different passport. And now that I'm officially an American, I feel that I belong equally to each of the three countries. This wealth of experience and plurality of "identities" may in some way be fundamental to my musical life, as well.
From what part of Italy did your ancestors come from? What is the bond that you established with the places of your Italian ancestors?
My mother and my mother's parents, as I mentioned, are originally from Molise, in the mountains. The town is Sant'Agapito and has a small mountain and a beautiful view. I have a house there on the side of a large hill which overlooks the valley and the river. The house was rebuilt by the Italian government after WWII, and later after a terrible an earthquake. I loved to go there visiting and walk among all the farms and rooms where they stored all the home-made foods: sauces, olives, and fruits. I watched them make the home-made wine, stomping with their feet. My cousin, Lucia, still lives there. All her children studied at the University at Naples. In Isernia, all my family organized a concert in memory of my mother, where I performed. It was held on my Mom's birthday, August 18th, which happened to be the Feast of Patron Sant'Agapito. That performance for me was very emotional; I suddenly felt at home.
What does "being of Italian descent in Argentina" remind you of during your adolescence?
It was not easy for me to pursue my love of music as a child and adolescent. I did not have my own piano to practice on until I was fourteen years old. I had to struggle with the new Spanish language because at home everyone spoke Italian. I also suffered watching my Mom, who had a promising career as an actress and an opera singer in Italy, not be able to follow her artistic love. My mother had to work to put food on our table ironing shirts and doing housework for others. My father, because he was only 15 years old when he had to fight in a horrible war, WWII, was psychologically traumatized for life and never recovered. My mother and I thank God that my grandfather, Antonio (I called him papanoni) my father's father, was around us always and really was my "father" growing up. My mom's father died the day after she got married; he was an architect. We couldn´t afford to buy a piano! My piano teacher saw what a passion I had for the piano and was an angel to me. She had a little guesthouse in the back yard with a piano. My teacher allowed me to practice until late at night. That was my 'secret place'. When my mom didn´t see me around, she knew where she had to search for me. My Mom with her brothers could sell one of their houses, which was still in shape, and with her part of the sale, she bought my grand piano as a surprise, the one I still have. It was not enough money, and she kept working to pay the difference. I was 15 years old
Where does the "American choice" originate? In the socio-political situation of your country or in the cultural and artistic reason?
There were two important reasons. In a period of 8 months some of my closest family and dear friends passed away: my mother, my grandfather and teacher Roberto Caamano. It was devastating. Also, the socio-political situation in the late 1990's was becoming very uncertain and getting worse. In the cultural and artistic sector it was impossible to grow. I was the head of the piano department at the Provincial Conservatory in Buenos Aires and at the University and, for example, we couldn't even get the pianos tuned. There were not many concerts, nor musical events because there was no money to support it. They were kind of paralyzed even when there was some chance. My first choice was to live in Europe, but only by coincidence, I was asked me to become a Steinway Artist. This meant coming to the United States and specifically to New York. I had to establish myself, and as a new immigrant, I had a new language to learn. When I saw the September 11 disaster on television I didn't know if they were showing a real event or something imagined. I was petrified. Now I am American, and the music helps me to have hope in the future
What plans do you have for the immediate future and what in the long run? Do you have other albums in preparation?
I have several performances in New York City introducing my newest CD, "Remembranza". Also, on May 8th, my birthday, I will be introducing my book, The Spirit of Technique and Interpretation: for Teachers and Students at the Argentinean Consulate. I have another proposal for a new CD, a compilation of all Tangos from Argentinean composers. And I have plans to perform in Brazil, Argentina, Colombia, and Europe. And I hold dear to my heart the wish to perform at the Vatican especially for Francis the Pope.